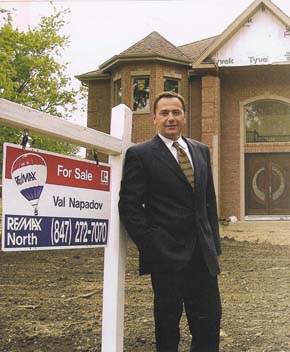 Being "honest and trustworthy to buyers" is the cornerstone of Val's philosophy, he says. "Five years later, those people will call back; that's what builds your business in real estate. You cannot build a sustaining real estate business on walk-ins and people calling you about an advertisement."
These people will be loyal to you, he says, "IF you've done a good job for them. But you can't tell people that you're not able to help them just because it's Saturday morning." He feels so strongly about the personal service that he refuses to employ an assistant or office staff. "I don't want a client of mine thinking I'm too busy to talk to them or take care of their needs by handing them off to an assistant," he declares.
So he is busy – very busy. In addition to high volume residential sales activities, he partners with a homebuilder to develop custom-designed speculative homes; currently he has two under construction – a 6,600 square foot house and a smaller, 3,700 square foot home; both are in Northbrook.
He also works with Red Seal Homes, Inc., a premier north shore home builder founded in 1934. During the 1970s, the firm built the precedent setting Villa Salceda in Northbrook, which for the first time combined the space of single-family homes with the maintenance-free conveniences of condominiums. Red Seal built more than 600 homes in what is now known as the Salceda Corridor along Willow Road in Northbrook and developed a number of well known communities on the north shore, including Hybernia in Highland Park, Sedgewood Cover in Lindenhurst and Stonegate in Northbrook.
Val's considerable success in residential real estate sales is a key to his success as a developer – he understands what buyers are looking for and has a keen appreciation for outstanding value in real estate. Marc Pershan, Executive Vice President, New Century Bank, says "Val is an astute businessman, a supportive shareholder and a wonderful customer. Like New Century Bank, Val aims to provide not just great service but constructive advice to his clients." The bank provided construction financing for this Val Napadov-developed 6,600 square foot home in Northbrook.
Val has been actively involved in the sales efforts at Red Seal's current development in Northbrook, Shermer Place, a 20-acre community of condominiums and single family homes.
"I sold 27 units there in two days," he says with a smile. With an active network of investors in selected real estate projects, such as Shermer Place, Val can offer developers a powerful advantage – early sales and a lot of them. He does his homework, he says, on every project he evaluates for his investor group. "I review the blueprints very carefully," he says, "because I want to know which units represent the greatest potential for my investors."
Brian Hoffman, Vice Chairman and Chief Financial Officer, Red Seal Homes, Inc., has high praise for Val: "He's a consummate professional who does a marvelous job of representing clients arid getting maximum value for them – but never letting the deal get away, either. He has an exceptional capability for finding value in the market, plus he has the ability to go before a group of investors and say 'today right now, at this price, let's do this.'"
In reference to the 27 Shermer Place units Val sold in less than 48 hours, Hoffman says that such an accomplishment demonstrates Val's considerable talent for resolving the tremendous amount of logistics necessary to get his clients together and then get something meaningful done in an orderly fashion -and in a short period of time.
Val says simply that his job "is to find the right projects and the right investors for those projects at the right time. Clients will stay with you if they are happy with their home and have made a lucrative investment – and in turn they are likely to listen to you in the future. It's very hard to please everyone, but I try my best," he says.
Val's advice to newcomers
His advice to newcomers to the business and to this country:
1. Get a good education and you will be able to get a good job.
2. Decide what you like to do.
3. If you choose real estate, be prepared to work hard.
"Real estate is a stressful, hard way to make a living," Val observes. "It's not easy. But when you make people happy with a house that becomes a home they love, well, that's my goal!"
Although he says he lives the business 24/7, he tries to set aside time every weekend for a distinct aspect of the American dream: Saturday morning sports mat are special occasions -his young son's soccer games."! Hate to miss those," he says with very convincing smile.