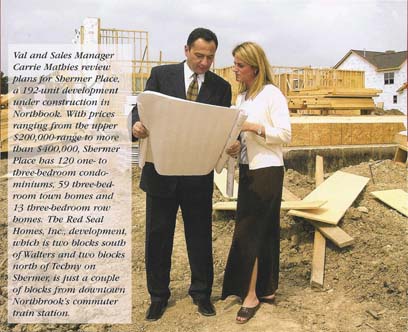 Val's attitude toward real estate sales hasn't changed. "I didn't want to be in a situation where I had to sell a house to a client because I had to have the income," he says. "That's not how you build a business – or at least that's not how I wanted to build my business," he emphasizes.
He offers this rationale: "Real estate is a very important life decision for my clients, and I want to make sure that the house I help them buy is the house that's appropriate to their needs and to the way they live. I don't want to find a house I can sell to them; I want to help them find the house that's best for them."
Val says you "can't buy a home like a car – and because real estate is a referral business, it's essential that your buyers are happy in the house you helped them buy. You can't shop for a house on the Internet, like you can shop for a car or a cell phone. You must be there. The agent is there to bring the client through this experience; to show them the advantages and the drawbacks of every property they look at together."
He continued to search for a firm that would accept part time agents, and in March, 1993, he left Sears after working in the real estate business part time long enough to realize that "you can't do the best job in two places." He was learning that his clients wanted him to be more available – "only nights and weekends just didn't work for me or them," he notes.
Leaving the security of a full time job with a regular paycheck was a risk, Val says, but he adds "I've never been scared to work hard. I've worked hard all my life and I knew I'd survive working full time in real estate – but I also knew that didn't mean eight hours a day, but full time, literally. I knew I'd be OK."
Armed with that kind of confidence, he joined Lebovic Realty Co. in Lincolnwood in 1992. A year later, he was ready to move on to a full-time position at North Shore Realty in Glenview. He was successful almost immediately, he says, thanks to two factors: He dealt with mortgage lenders who were very helpful to his "I had been giving advice to other immigrants and members of their families," he says, "who would ask me buyers; and many of his clients were fellow members of the emigre community who had come to Chicago with the same desire for a better life.about what kind of cars to buy, where to get insurance, how to buy a home." He estimates there are "thousands and thousands" in the Russian/Ukrainian immigrant community in Chicago.
"Remember," he says, "Russian immigrants want to own real estate, which was impossible where they lived for so many years. They want to buy a home of their own, and they will work very hard to earn the money for a down payment and to get a mortgage."
Val says he's proud of the fact that he did a good job for them. "I brought buyers to the right properties; they were happy with the homes I found for them, and it was appreciated," he says. "In many cases," he explains, "I became the real estate agent for the family including the parents, children and even grandparents."
With respect to the ethnic market he serves, Val says "you have to know the nature of the people you're dealing with — and the mentality of those who have come to this country is different." Just speaking the language isn't the key to success, he declares.
"You have to understand what motivates people to leave their homeland and come to America, and you must appreciate their aspirations once they're here. They need help, in one way or the other – and they want trustworthy guidance and assistance, especially in the major life decisions they must make once they're here."
In December of 1997, Val joined RE/MAX North in Northbrook. "I wanted to be near my office and we were building a home in Northbrook," a community he had decided was "the best place for me and my family", which now included a son born in 1994.